Downtown Ski & Spa complex in Bansko has a total built area of 58000 m2. It consists of 15 buildings "aparthotel" type and luxury Hotel. The Aparthotel has an area of 24000 sq.m. The complex is very close to the first station of the cabin lift only 100 m.
The facades of the buildings are typical for the architectural style of Bansko – steep roofs, covered with tiles. In order to prevent the freezing during the winter there is a heating system for drain pipes and gutters. Stone and wooden facing on the facades are used, up to date railings and hoods finish the picturesque design of the bucolic sounding of the complex.
The Aparthotel offers 248, 5-star apartments completely furnished in modern European design. Most of the apartments have a panoramic view to the Pirin Mountain. There is a second bathroom in the apartments with more than one bedroom.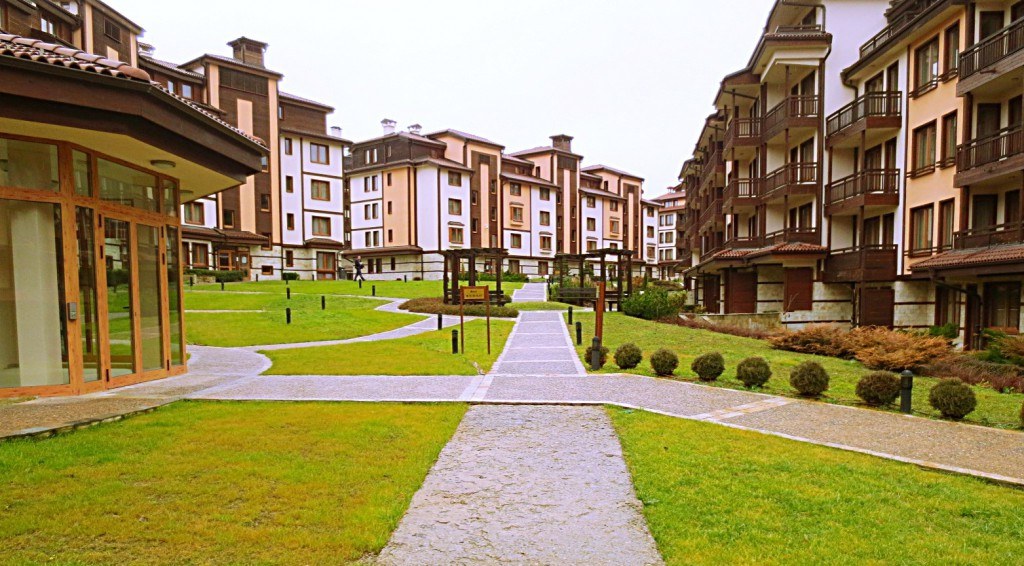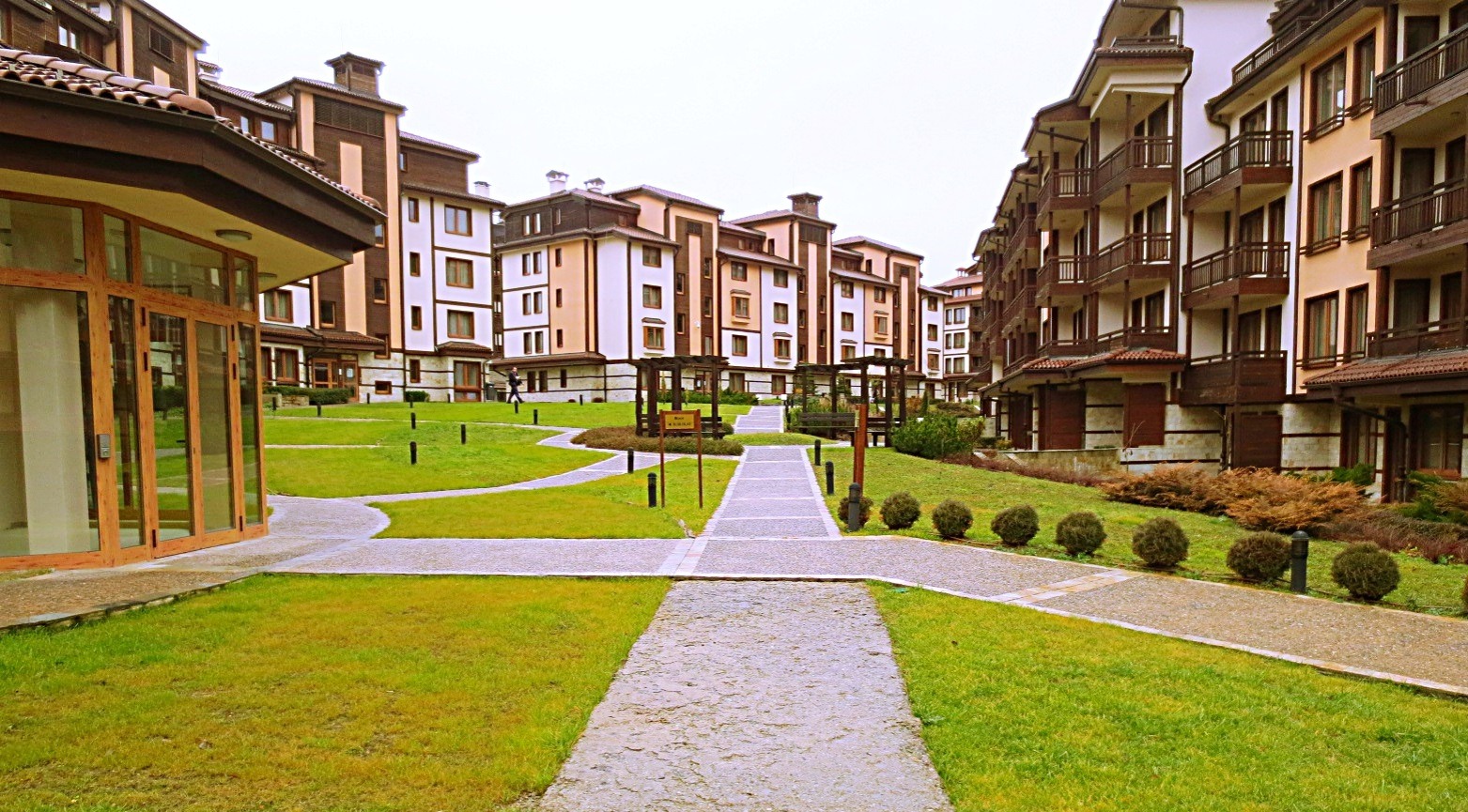 Most of the apartment buildings are with 3 apartments on each floor. This solution provides comfort of living and beautiful view to the mountain. The apartments on the ground floor of the building, have their own exit to the own yard. The ground floor of the buildings exits to the main street and there are many shops there – for sport accessories, ski-outfit, etc.
All apartments have security system, fire alarm system, and SOS system in bathrooms, central heating, air conditioning, direct dial telephones, Internet, digital TV system with LCD monitor, vacuum-cleaning system.
The square surface of the apartments is as follows:
Studios (about 50 sq.m), apartments with one bedroom (from 71.30 to 106.17 sq.m); two bedrooms (from 108.88 to 133.94 sq.m); maisonnetes – with two bedrooms (from 143.44 to 168.28 sq.m) and one maisonnette with three bedrooms – 192.52 sq.m.
The luxury five star Hotel has a total built area of 32 170 sq.m. It is on six levels – basement, ground floor, three floors and attic floor. There are 168 rooms Deluxe, 18 rooms Executive, 6 apartments Deluxe, 4 apartments Executive. All hotel rooms offers stunning views to the mountain. The rich SPA center has a total built area of 3000 m2. The guests are provided with the wide choice of procedures in SPA center: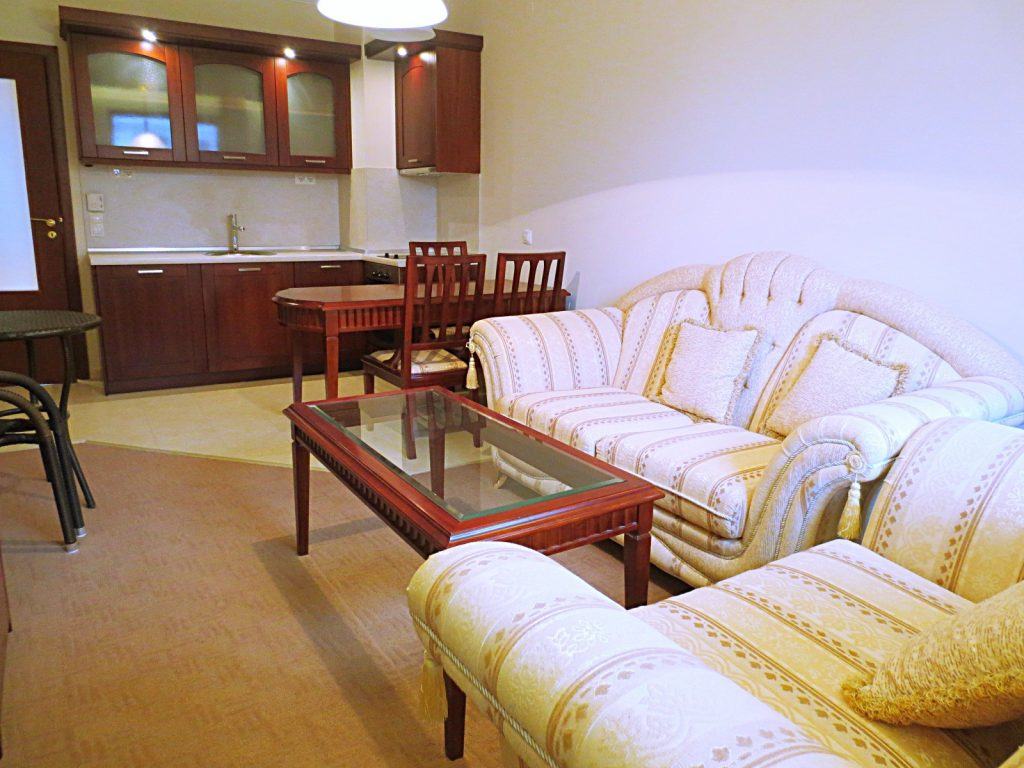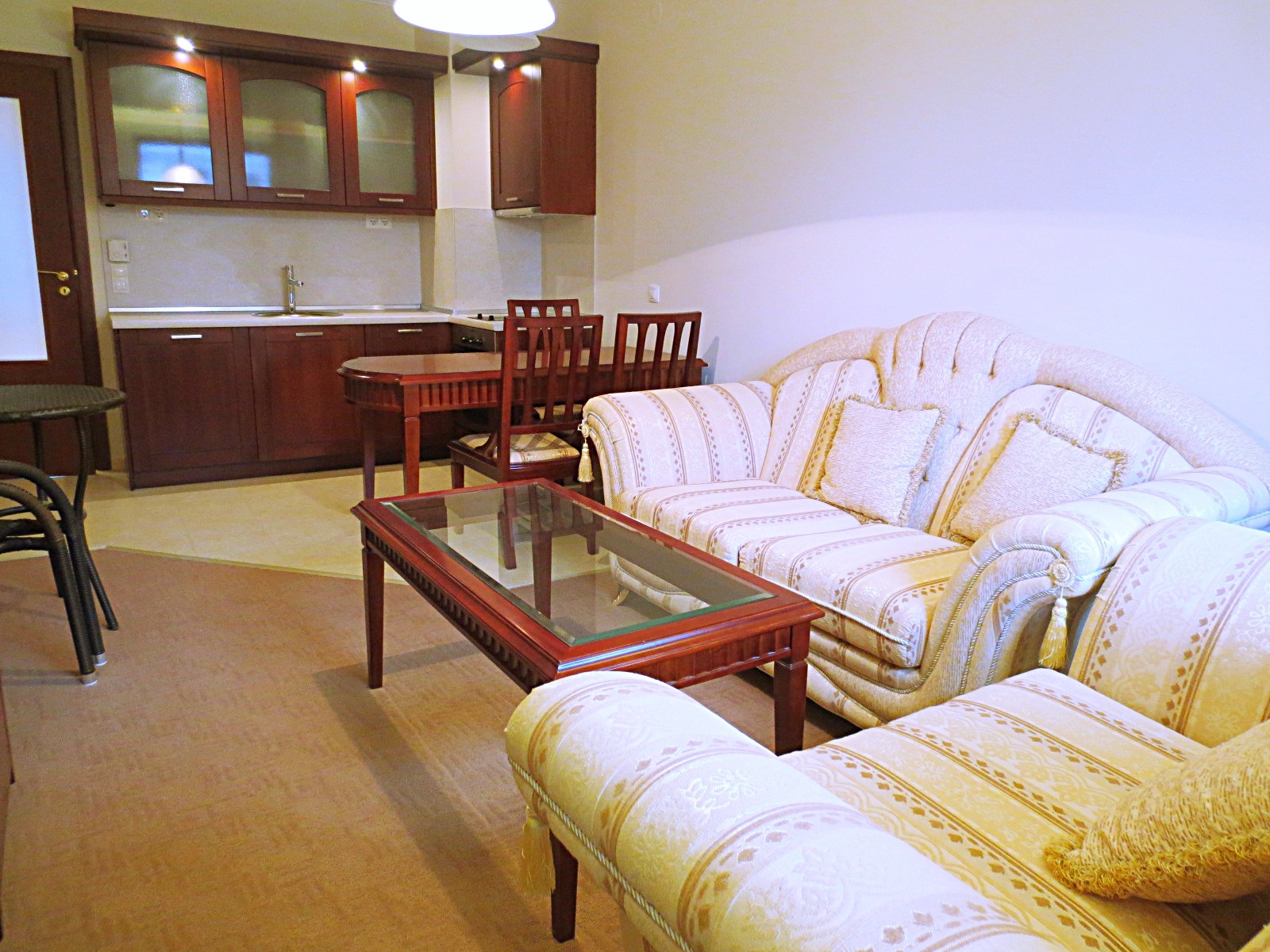 Thermal club – the first level with Turkish bath, Russian steam bath, Finnish bath, two herbal steam baths, Crio-therapy, aroma salt steam bath, showers with attractions, water meditation zone (tepidarium), ice fountain, body and leg hydro massage forms, unique baths with wine, milk, seaweed.
The sport and SPA center have an own reception desk, where the visitors are allocated to the pools and SPA center. There are three zones in the pools area – a big sport pool, attractive pool with water skating and attractions and children pool. The premises are very light and exit to the opened terrace with BBQ. The whole complex is fenced and there is 24 hours security.
Are You looking to sell your apartment in Downtown Ski & Spa complex, Bansko Bulgaria?
Currently a great part of the owners in Downtown Ski & Spa complex are looking to sell their apartments. On the basis of offered and received inquiries of evaluated properties, we at Cash4BulgarianProperties can report that market price range vary from 350 – 400 euros per square meters for fully furnished and equipped apartments. There is increasing interest from our Russian customers who have already purchased a holiday home on the seaside and now are looking to take advantage of attractive prices in Bansko resort. Properties with the highest priority are those which are ready to move in and are in close proximity to the ski lift.
If you own an apartment in Downtown Ski & Spa complex and would like to discuss further details or receive an absolutely Free Valuation of your property without any obligations, don't hesitate to contact us by email or on the phone: +359878607722
Ski Resort Bansko – the winter capital of the Balkans
The picturesque mountain town of Bansko is situated in one of the most beautiful places in Southern Bulgaria – on the slopes of the Pirin Mountains, a UNESCO World Natural Heritage Site, between Rila and Rodopi Mounts. Bansko has became a most popular Ski resort of The Balkans. It is famous for its new and well-organized ski center. Also the ski center is undoubtedly the modest modern across Balkan countries. Bansko is not just a ski resort, but a wonderful city – a historic monument with many museums, cultural and historical heritage.
Tourists can take advantage of Ski and Snowboard schools for all ages and skill levels. There are experienced instructors which carefully take care of children and adults no matter of skill levels. Even the ski schools, there are modern Spa centers, beautiful and convenient ski bars located throughout the length of the ski runs. The perfect mood can be sustained in bars and nightclubs which are open till early mornings.
Lot of tourists are in loved with Bansko's amazing combination of ancient and present history and the extraordinary natural beauty of the region. This is one of the reasons they want to acquired a place they can called a second home. Mainly groups which are focused in buying properties in Bansko are Russian citizens and citizens from the former Soviet republics. Also there is some presence of Bulgarians, Macedonians and Romanians who represent a certain percentage of buyers in the ski resort.
Nobody is surprised that there is such great interest in buying property in Bansko. The ski resort offers very attractive prices in correlation of offered apartments. Quality of constructions and amenities. Ski properties has a great potential to be rented out. So you can get good dividends from your apartment and later you can always sell. In better times is likely to achieve significantly better price.
We at Cash4BulgarianProperties will provide full service in the whole process of buying a property. We will help you to find you dream Ski property in Bansko! Contact us right now by email or phone: +359878607722. We are ready to answer all your questions!