The stunning complex Diamond in Sveti Vlas is situated on the seashore, over the yacht port "Marina Dinevi". The complex is built on an area of ​​24.000 sq.m. and features an extremely stylish and original architecture. Diamond Complex in Sveti Vlas includes 200 apartments of different types (one-bedroom and two-bedroom) and 6 detached houses, as impressive are the 14 one-storey panoramic apartments under the ground which have a breathtaking view over the bay of Nessebar and Sunny Beach. The complex has landscaped gardens and alleys for the convenience and entertainment of all apartment owners and their guests has two swimming pools, aqua bars, gym, internet cafe, beauty salon with sauna and solarium, hairdresser, supermarket, currency exchange, piano bar, parking. All apartments in Diamond complex at Sveti Vlas are luxury finished and modern furnished. Relaxed atmosphere and facilities make it a preferred place for family vacations and rest.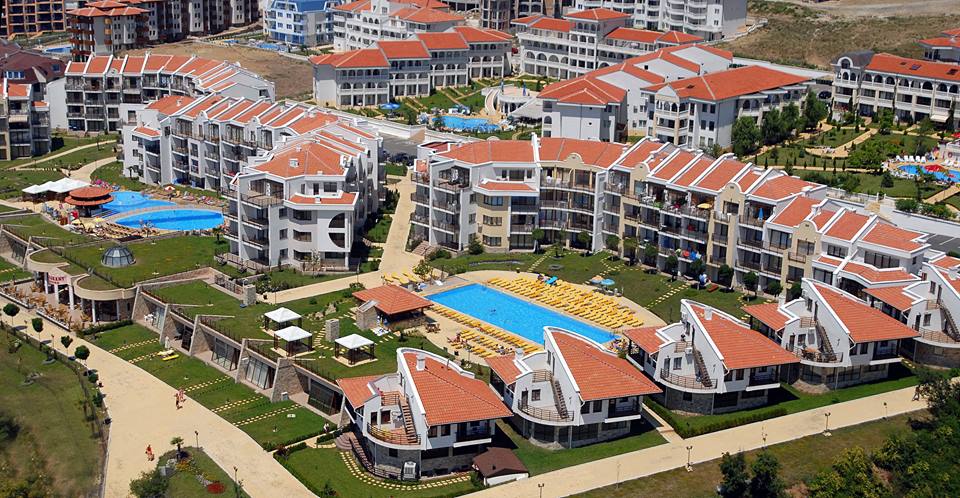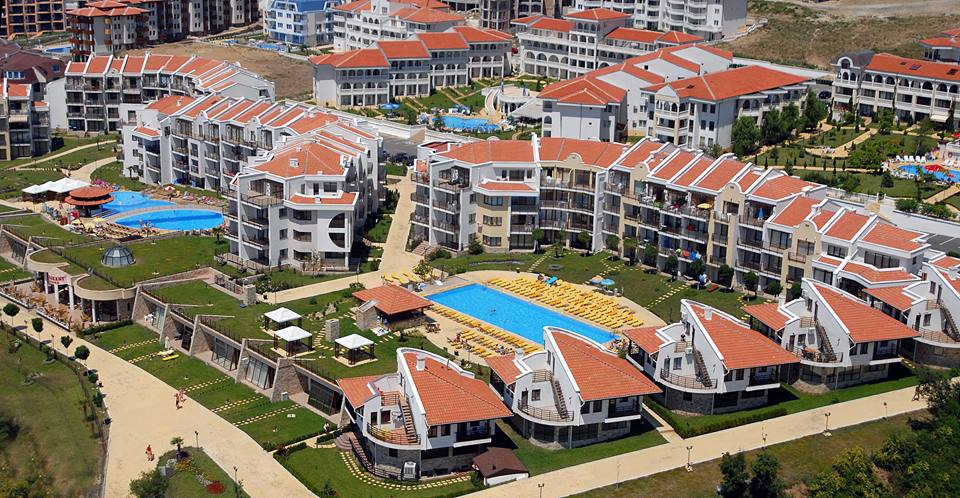 Latest estimates of apartments in Diamond complex at Sveti Vlas of Cash4BulgarianProperties.com:
One-bedroom apartment, luxury furnished with sea views, living area 56 sq.m. – 64.400 Euros
Two-bedroom apartment, luxury furnished with sea views, living area 89 sq.m. – 97.900 Euros
Important: The evaluation of apartment is at estimated market price, which incorporates the agency commission, legal fees, fees for document preparation and other obligations of the owner to finalize the deal with buying and selling real estate, according to law in Bulgaria.
Looking to sell your apartment in Diamond complex at Sveti Vlas? Contact with us NOW!
How can I sell my apartment in Diamond complex at Sveti Vlas? What is the price now? Can I do this without traveling to Bulgaria? These are all questions that ask a large number of foreigners owners of real estate property in Bulgaria, a major part of which are British and Irish citizens. All they have invested years ago in the Bulgarian property market, mainly in holiday apartments in Bulgarian Black Sea coast.
The answer is very simple! Contact with Cash4BulgarianProperties.com now, it will be our pleasure and responsibility to accompany you throughout the complicated process of selling  your holiday apartment, from market analysis and FREE EVALUATION of the property to get the money for it in your bank account.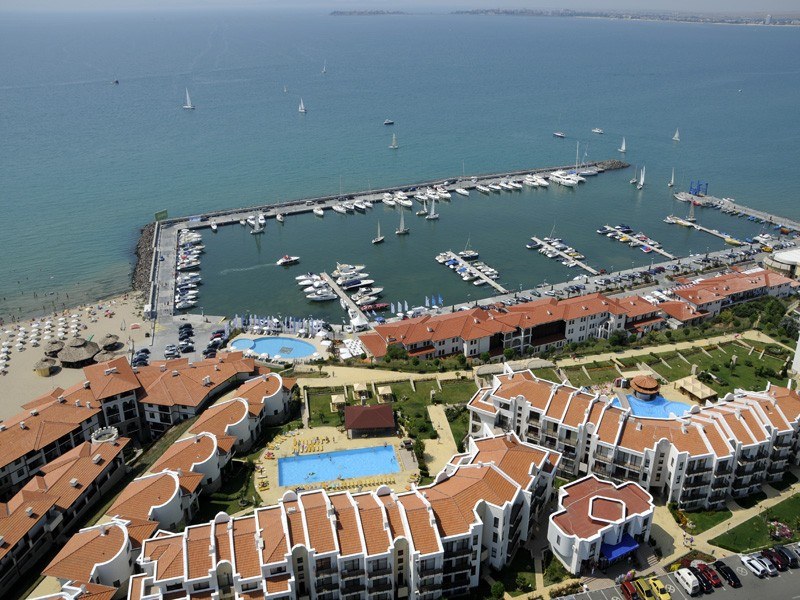 When you purchase an apartment in Diamond complex at Sveti Vlas, no one imagined how tough it will be to own and manage a property away from home. During the 2005, when this complex was officially opened, no one had reason to suppose that you can lose that investment, but recent economic crisis and the collapse of real estate prices made us accept the bitter loss of our assets. If you decide to sell your apartment in Diamond complex at Sveti Vlas, fortunately still in Bulgarian laws there is an opportunity in real estate deals cannot attend in person, and for this purpose to use the services of a person expressly authorized such as this appears to be another way to save time, cost and reduce its losses.
According to Bulgarian law as the established practice in the real estate business, there are some mandatory things that you need to check and resolve to facilitate the process of selling your apartment in Diamond complex at Sveti Vlas:
-          Notary deed – actually this is the official document proving your ownership, what you own, and the type of apartment, how much is its living area, common areas, etc. Any buyer will necessarily want to see a copy of it before paying a deposit for a reservation of the property.
-          BULSTAT Registration – after the purchase of a property in Bulgaria, all foreigners are required within 7 (seven) days after receiving the Title Deed to be registered in a national administrative registry BULSTAT otherwise they are subject to sanctions. When selling his apartment in Diamond complex at Sveti Vlas, all owners must provide a copy of this registration.
-          Annual taxes on the property – under the Law on Local Taxes and Fees, anyone who has acquired a property in Bulgaria, regardless of new or old construction, undertakes, within 2 (two) months after the finalization and registration of the deal to file a tax declaration in the respective Tax office on which is the property. Otherwise, the owner is subject to fines and penalties. There is no way to sell your apartment, if you have not done this registration and you have not paid all taxes of the state, because it is your personal responsibility.
-          Fees for maintenance and management of the property – please check when was the last time you paid those fees on managing company of Diamond Complex in Sveti Vlas and if possible provide payment documents for this. Regardless of the fact  that you have not used the apartment over the years, these are obligations and any purchaser of the property will require an official reference for a lack of obligations. Many of the management companies are tolerant and would agree to sign an agreement to pay them your obligations for maintenance after the sale of the apartment.
-          Key and providing access to the property – ensuring key and access to the apartment is the first and most important step, which is necessary to be made when selling a real estate. Very often for this purpose require management companies to be officially informed by e-mail about the name of broker and the agency that has access to the apartment, even in some cases such as in Diamond complex at Sveti Vlas necessary power of attorney certified by a Notary.
If you would like to discuss selling your apartment in Diamond complex at Sveti Vlas, please contact with us NOW and we will be happy to answer any questions that you have, absolutely FREE, with no upfront fee and no obligations!!!
Dinevi resort, the most impressive place along Bulgarian Black sea coast
Dinevi Resort is located in town of Sveti Vlas, just 1.5 km. from Sunny Beach and 7 km. from Nessebar. Until now Dinevi Resort consists of 33 (thirty three) fully completed complexes of holiday apartments located on the waterfront of the seaside around the newly built yacht port "Marina Dinevi". Buying an apartment in this exclusive area is a privilege and is considered one of the best real estate investments on the Bulgarian Black Sea coast. All owners of apartments in Dinevi resort are free to avail the facilities and the myriad attractions in the complexes. Here you can to enjoy the beautiful beaches and more than 15 restaurants with varying cuisine from around the world. For the lovers of nightlife and entertainment in Dinevi resort has two piano bars, here also is one of the most popular nightclubs in Bulgaria "Planet Yacht Club".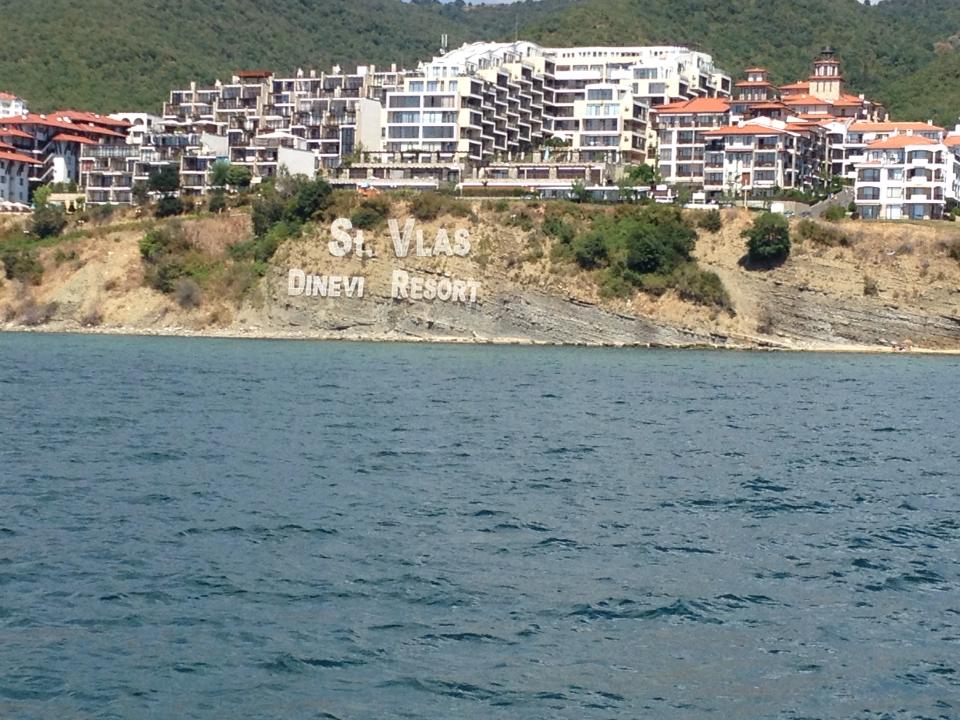 At the Dinevi resort is situated complex "Victoria Spa" part of the only Asian spa chain in Bulgaria. "Victoria Spa" complex is furnished and decorated in Arabic style and features an authentic Turkish bath, sauna, steam room, fitness center, professional beauty salon, romantic Jacuzzi for two, oxygen and vitamin bar, 7 deluxe rooms for massage, spa capsule, hairdresser with manicure and pedicure, Arabic sofas for relax, solarium, ice fountain, relaxation room. For all owners of apartments in Dinevi resort and their guests, the center offers over 150 individual programs for firming and slimming, spa rituals, etc.
Amphitheater "Arena" in Dinevi resort is a modern facility that has 450 seats for all art lovers.Its summer poster includes a variety of cultural events at regional, national and international level. For the youngest guests ofDinevi resort amphitheater "Arena" is a children's entertainment center that offers leisure games, creative activities and sporting events such as chess, fencing and much more.
During 2007 in Dinevi resort complete the Orthodox Church "St. Vlasiy". In its place from the III (third) to the XVII (seventeenth) century there was eponymous monastery, which was destroyed by the Turks in the XVII (seventeenth) century. The church is dedicated to St. Vlasiy Hieromartyr, Bishop Sevastiyski, who lived in Cappadocia, Turkey today. His name brings and the sea town Sveti Vlas where today is built Dinevi resort, the most impressive place on the Bulgarian Black Sea Coast!