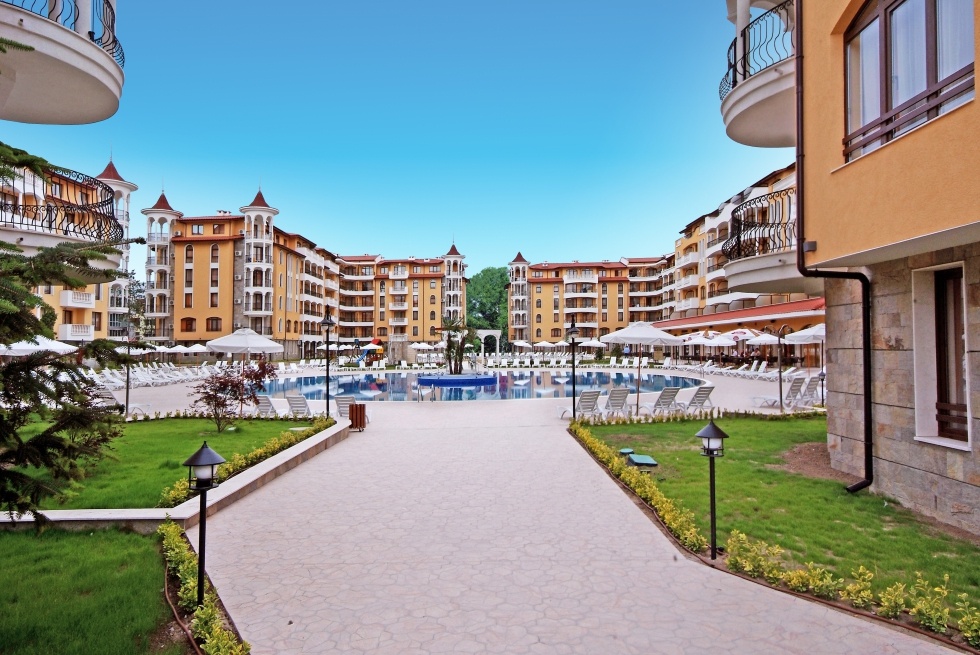 Royal Sun complex is an elite gated community, only 300 meters from the beautiful sandy beach of Sunny Beach, which has repeatedly won international environmental award "Blue Flag". This award is given to beaches where special efforts are put in place to keep the seaside environment clean. The Investor Galaxy Property Group is a leading company in the real estate and tourism sector in Bulgaria. Apart Hotel Royal Sun is the third project of the company in Sunny Beach, after Oasis VIP Club and the complex Barcelo Royal Beach. All projects of the Investment Company Galaxy Property Group Ltd are characterized by high quality, reliability for customers and guaranteed return on investment. Proof of that are the emblematic projects that are distinguished by their architecture and design and the numerous prizes and awards earned over the years. In its portfolio Galaxy Property Group Ltd offers for sale and rent residential, retail and office space in the Bulgarian beach and ski resorts and in the largest cities of the country.  In recent years, Sunny Beach resort has became a megalopolis. After the construction of the highway "Black Sea", Sunny Beach, will be recognized as a major socio-economic center in Eastern Bulgaria.
Royal Sun complex in Sunny Beach resort features Mediterranean architecture and contemporary landscape design that includes a fantastic garden of over 10,000 sq.m. and aqua park of over 3000 sq.m.  The area includes 3 outdoor pools. The complex offers a wide range of services and facilities for all guests and owners: reception, restaurant, lobby bar, supermarket, playground for children, exchange point, health center, SPA (includes a gym, sauna, hairdresser and beautician, massage room, solarium), garden, parking lots and 24-hour security. Royal Sun complex has 539 fully finished and modern furnished apartments, 101 studios, 319 one-bedroom apartments and 119 two bedroom apartments. These holiday apartments meet all international standards and requirements of the tour operators for rent. Royal Sun complex is one of the few complexes in Sunny Beach, which is open year round and shall remain one of the most popular places for recreation and relaxation. The complex is managed and maintained by the investment company Galaxy Property Group Ltd.
Currently, the real estate investor of Royal Sun complex, offers apartments for sale at the price of about 800 Euro per sq.m. Secondary market prices for the sale of the apartments are quite reasonable and are in the range of 600-650 Euro per sq.m. Statistics based on evaluations prepared for apartments and realized sales from the Cash4BulgarianProperties.com in Royal Sun complex are as follows:
[dt_list style="1" dividers="true"]
[dt_list_item image=""]Studio apartment, fully furnished with appliances, good condition – 29.000 Euro[/dt_list_item]
[dt_list_item image=""]One bedroom apartment, fully furnished with appliances, good condition – 40.000 Euro[/dt_list_item]
[dt_list_item image=""]Two bedroom apartment, fully furnished with appliances, good condition – 54.000 Euro[/dt_list_item]
[/dt_list]
Expectations for the 2014 are prices in

Royal Sun complex

of Sunny Beach resort to remain stable,
with a movement up or down only within the statistical error. If you own an apartment in Royal Sun complex and would like to discuss further details or receive an absolutely FREE and without obligation valuation of the current market value of this property, please contact us by email or on the phone: +359 878 60 77 82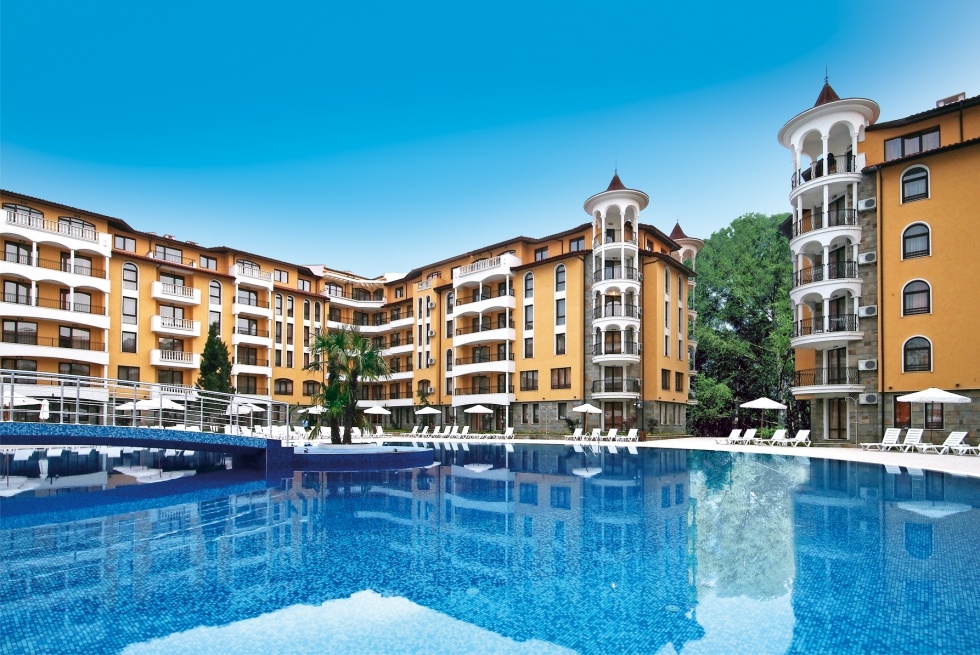 Sell your holiday properties in Sunny Beach resort, Bulgaria
Sunny Beach has always been and shall remain the most preferred place to buy a holiday property in Bulgaria. Over the years of the property bonanza, 2004-2008, many real estate investors have decided to try their luck by taking advantage of the opportunities that a new destination like Bulgaria and Sunny Beach as well-known brand with 50 years history, provide. Citizens of the UK and Ireland have the largest market share in holiday properties in Sunny Beach resort in the invasion of the real estate market. Unfortunately, the global economic crisis and the subsequent collapse of the capital markets froze real estate market and its liquidity dried up. This has led to a decline in property prices in Sunny Beach resort by 30-50% and a very limited demand. As a new exotic destination, Bulgaria proved unstable, a fact that had the British and Irish investors collect the first losses in their investment portfolios. This led to an outflow of interest in Bulgarian property market. Although in recent years the buyers from Russia succeeded to revive the real estate market in Sunny Beach resort, these are not reported trends and prerequisites for recovery of the price levels of the peak of sales in 2007-2008. Before the start of the summer tourist season in 2014, we see the expected liveliness of the real estate market, increasing the popularity of the sea vacation properties among citizens of more countries, but we also expect these to continue to be dominated by Russian buyers. Preferences are focused on properties on the secondary market in the resort of Sunny Beach, which are priced at levels of 400-600 Euro per sq.m. and in most cases up to 20% lower than the prices of new buildings. Another advantage of these properties is that they are ready to use and there is no risk of buying "off-plan", which is a very important condition in this stressful time of the real estate market. Based on our practice, Cash4BulgarianProperties.com outlines several leading factors when buying a holiday home in Sunny Beach resort:
- Attractive price, and we don't mean the cheapest possible. We consider price for current supply and current market conditions in direct competition with similar type of real estate for sale;
- Quality of construction and amenities create an advantage that property buyers on the secondary market buyers have, because they can see and appreciate the final result of the construction of a project;
- Management and conditions for the development of the complex, a major factor that adds value to the property price, guaranteed investment and increases the return on capital employed of each owner;
If you own a property in Sunny Beach resort we will be happy if you contact us by email or phone: +359 878 60 77 82. We are ready to answer all your questions, to visit at a convenient time your property, no upfront fee and no obligations absolutely FREE to prepare a realistic assessment of the property, according to the current state of the market and commit ourselves to its sales in the fixed period. You are welcome at any time at our office in the center of Sunny Beach, in a new part of the emblematic hotel Kuban, block B, office № 6 – one of the few real estate offices, which is open all year round.