Location
Harmony Suites is a first-class gated residential complex located in the popular Sunny Beach resort. This luxury complex attracts foreign investors with the quiet and picturesque location in an ecologically clean region near to all facilities and in just 700 m distance from the Black Sea beach. You can relax on the golden sand of the clean beaches taking just a short walk from the complex. They are located in 11 minutes of walk from the Harmony Suites apart-hotel complex.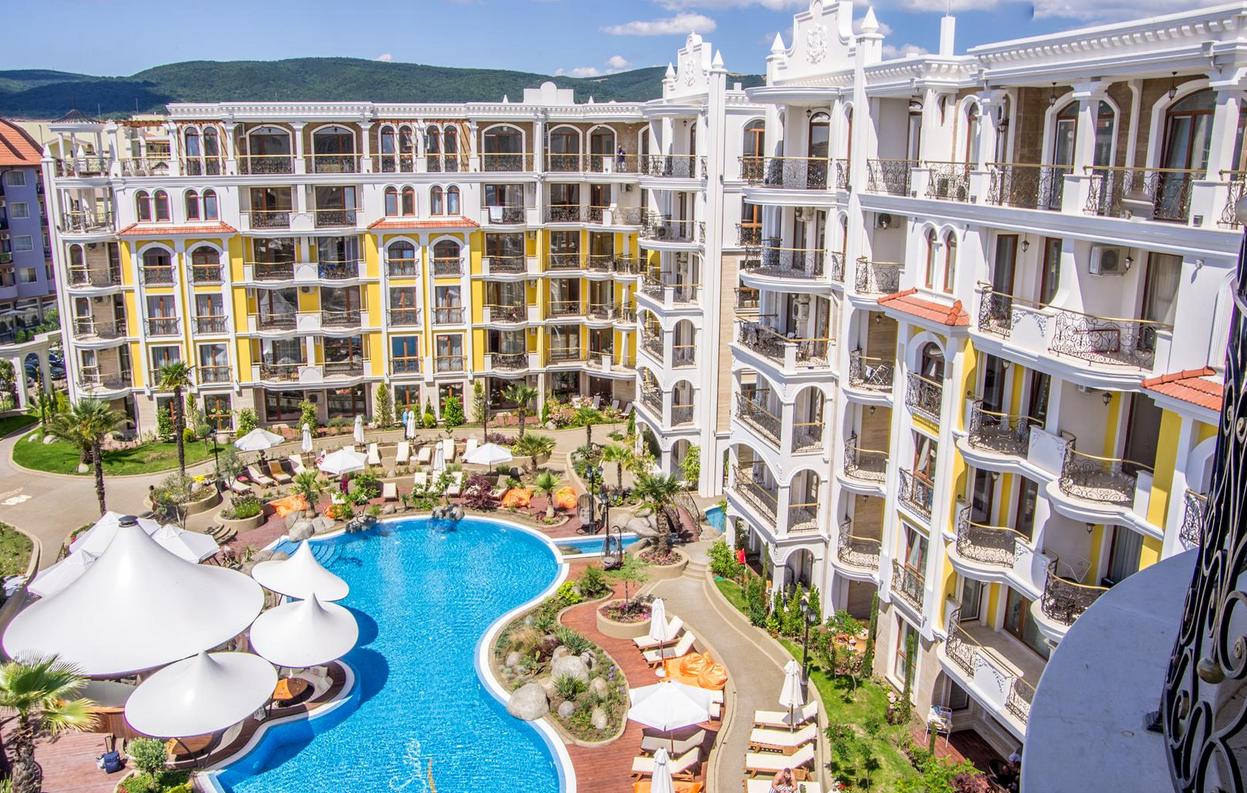 Facilities
On the territory of Harmony Suites, a green park is located along with swimming pools for people in different ages. A Hydrolysis and electrolysis system is provided to clean the water in the swimming pools, so that the Harmony Suites guests would enjoy the clean water. There are also a playground and outdoor Jacuzzi.
Each facility is intended to predispose the owners and holiday-makers to relax. There is a lovely restaurant that offers delicious Mediterranean and European cuisine, where you can spend the evening with your family or friends. The sports lovers will have multiple opportunities to spend an active vacation here. There are sports facilities that include football, volleyball, tennis, etc. In the park you can take part in sports classes like Yoga, Kango Jumps, Pilates and more.
There is a free private parking for all the complex's guests, who can take advantage of a free Wi-Fi in all the rooms. A free barbeque is provided in the garden where people can share their delicious dinner with friends.
Moreover, the complex is a secure place that is guarded by intercom, round-the-clock live security, fire safety systems and video surveillance. Some additional facilities include café, restaurant, exclusive spa center, as well as a center for children's animation where the little kids are supervised by the entertainers.
Nearby Attractions
Bourgas Airport is located in 28 km, while the beautiful quiet resorts of Sveti Vlas and Nessebar are located in 10 min driving. If you would like to go for groceries, the stores and supermarkets are in 5-minute walking distance, while the Aqua Park Action and the Royal Beach Mall Trading Center are located in 2,6 km.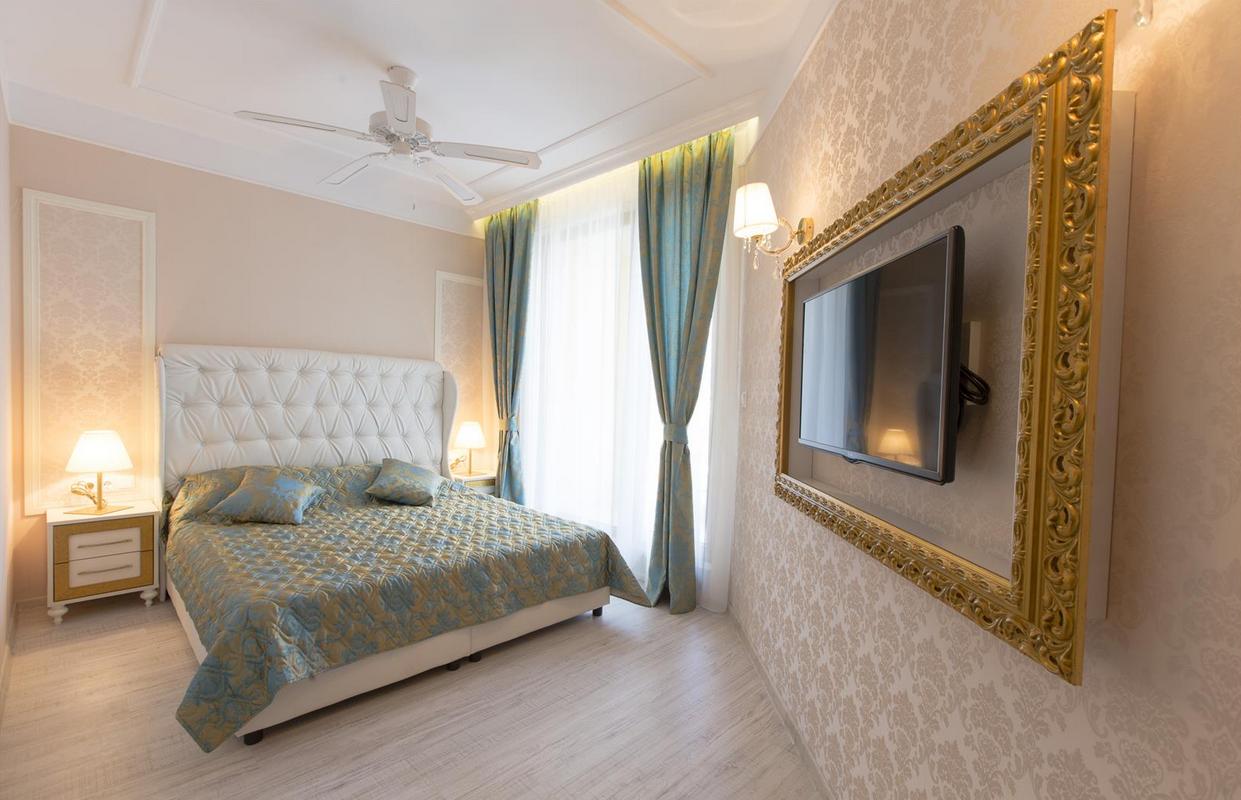 Suites
The suites include a living room that features a flat-screen cable TV and an area with a comfortable sofa. There is a kitchenette that enables people to cook on their own along with a dining table. There is a bathroom with a shower and a hairdryer. People can relax on the balcony that features a garden furniture and enjoy the beautiful panorama.
Price Analysis New and Resale Offers
Despite what many skeptics think, Bulgaria offers affordable prices for real estate that attract many investors worldwide. The company can provide people with multiple options for apartments that fit their budget and needs. The actual price of the property depends on several factors, such as its layout, location, space, type, etc. The apartments are equipped with all the appliances and furniture you may need to immediately move in.
Harmony Suites investor sells different types of apartments  varying between Studios, one-, two- and three-bedroom apartments at prices between 900 and 2 000 euro/sq.m.
Traditionally more attractive are resale offers in the complex with prices starting from as little as 500 euro/sq.m.
Among the tourists, this complex is rated as the most beneficial in the entire Sunny Beach resort. The reason for this is that people think their money well worth the time they spend here when compared to the other local accommodation options.
All apartment owners in any of the Harmony Suites Complexes can take advantage of our Free Property Valuation from the experts at Cash4BulgarianProperties or a CASH offer for your property within 24 hours.
Contact us by e-mail info@cash4bulgarianpropertis.com or by phone +359 (0) 878 60 77 82 !
There are two amazing vacation complexes in Sunny Beach that investors would definitely enjoy. Both of them are modern, luxury and offer a great number of facilities. Let's consider each of them separately, so you can get a real feel of what would be your summer life in any of these two complexes.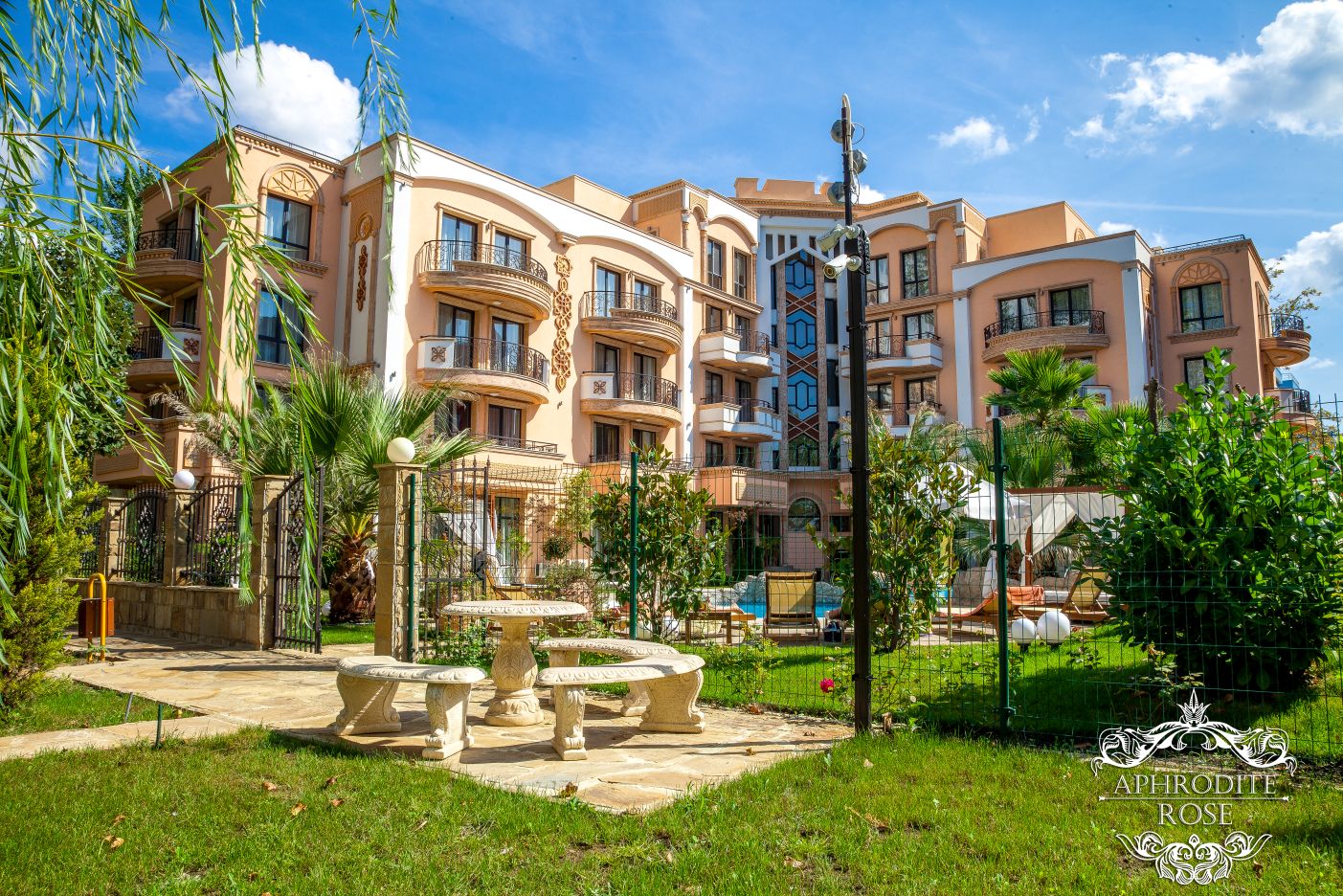 Aphrodite Rose
This is a unique gated resort complex located in the quiet part of Sunny Beach. There is a big green park around making the region ecological clean and perfect for rest.
Yet, the beach and the resort's center are not too far away. You can reach both for just 10 min walking. The old city of Nessebar is located in 2 km away where you can spend a day or to in sightseeing. There are a lot of ancient attractions here. The International Airport in Burgas is located in 35 km.
The Aphrodite Rose Complex consists of one 6-story building with two entrances. The apartments located there are fully completed. There is a choice between apartments with one bedroom and two bedrooms and studios. Most of these apartments provide amazing view to the beautiful park located beside the complex. This place is perfect for families with kids as well as for the couples who are searching for serenity and tranquility.
The facilities and services offered in this complex include: two swimming pools – one for kids and one for adults, a fitness center, outdoor Jacuzzi, water bar, a playground, a football pitch, a volleyball court, billiard, table tennis, parking. There is an Internet connection on the territory of the complex and 24/7 security and video surveillance.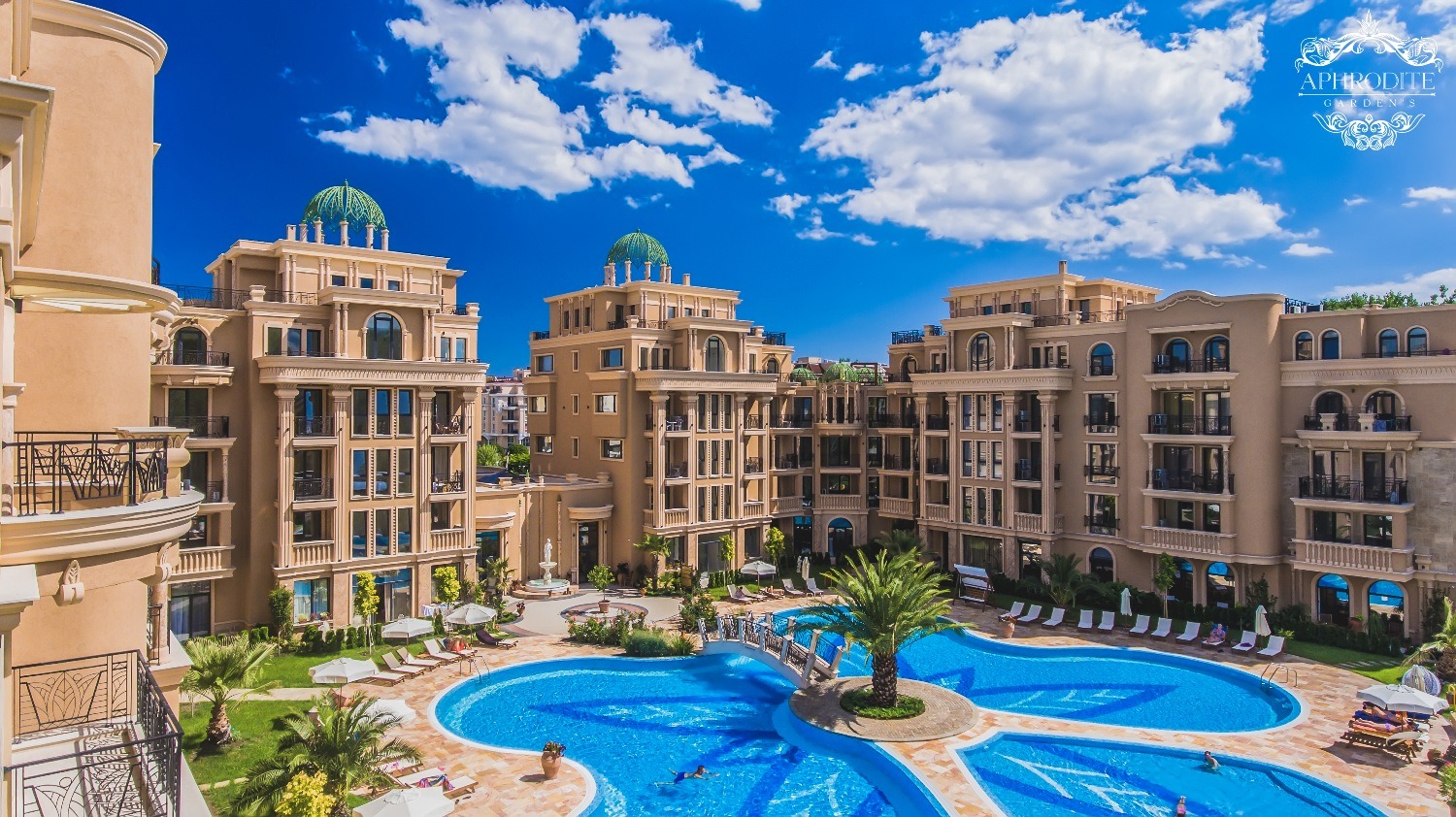 Aphrodite Gardens
This is another beautiful gated complex located beside the other Aphrodite Complexes. So the beach and the city center along with all the other attractions are located in the same distance as from the Aphrodite Rose Complex.
The complex consists of one 6-story building with four entrances. There are studios and apartments with one, two or three bedrooms available for sale in this complex. Most of the apartments have a panorama to the beautiful park located beside the complex. Besides all the facilities that the complex itself offers, there are some facilities in the park, too. They include places for picnic, playgrounds, sport facilities, etc. A small church is going to be built in that park, too.
The facilities offered at Aphrodite Gardens include a big swimming pool in the form of a flower along with a children's swimming pool with umbrellas and sun loungers, non-stop video surveillance and security, a lobby bar and reception with unique design, water bar, outdoor Jacuzzi, modern fitness center, salt room, along with massage services.
There is a volleyball court, football pitch and a great kid's park. A hair-dressing salon and parking also serve the complex. People can take advantage of the Internet on the entire territory of the Aphrodite Gardens complex. There is also a beautiful courtyard garden with fountains and a landscaped courtyard for relaxation.
Cascadas Family Resort, Sunny Beach
Location
Being the major Bulgarian summer resort on the Black Sea coast, Sunny Beach attracts thousands of tourists during the season, which prolongs from May till October. The popular attractions in this resort include multiple water sports, two water parks, the nearby located Nessebar historic site, and multiple fashion shows and music festivals that are conducted annually here. Nessebar is a historic town located in just 5 km and can be easily reached by a car or bus. The bus station is in 1 km from the complex, so you have access to all the major sights and local facilities.
The amazing Cascadas Complex itself is made of 20 6-story buildings. It is located on 149 Chaika Street, Sunny Beach.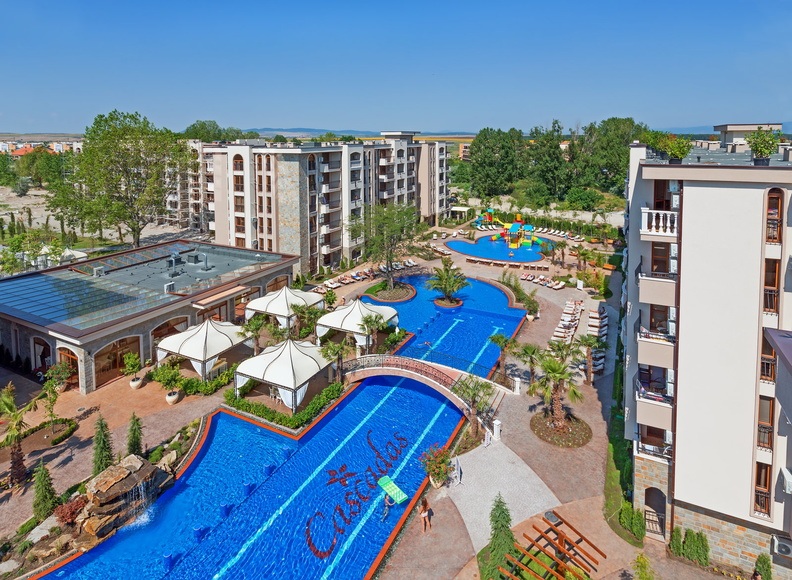 Outdoor and Indoor Facilities
It provides both outdoor and indoor wellness facilities along with excellent accommodation options. These include one outdoor gym and two indoor gyms, a massage parlor, hot tubs located also outdoors, etc.
Among the outdoor facilities there is also a barbecue and a playground for beach volleyball. The most popular Bulgarian Aqua park called Action Aqua Park is located in just 100 meters from the complex. Along with the swimming pools available in the complex, the tourists can enjoy the beach that lies in just 600 meters away. The lovers of the dynamic night life in Sunny Beach have the opportunity to visit the multiple Cacao Beach clubs that are 4 km off.
Cascadas Complex offers also cars and bikes for rental that will give you the opportunity to visit effortlessly all the surrounding attractive places. People, who would like to get a transfer to Istanbul, can request it at the complex and it will be arranged for them at a surcharge.
Apartments
Various apartment choices are available at the Cascadas Family Resort that include standard one- and two-bedroom apartments, studious, Deluxe studios and apartments. All the apartments and studios at the complex have elegant and modern decoration and feature a balcony. There are all connections for fixing a kitchen along with a sleek bathroom that enhance the owners' convenience.
Restaurants
The Cascadas Complex also features 3 restaurants – Spanish, Italian, and of course Bulgarian one with traditional Bulgarian dishes. If you would like to sample the amazing cuisine offered at the Bulgarian and Spanish restaurants, you need to get accommodation between 1 of June until 30 of September, as they are open only during that period. On the other hand, the Italian restaurants operates all year round and is at the disposal of the complex guests.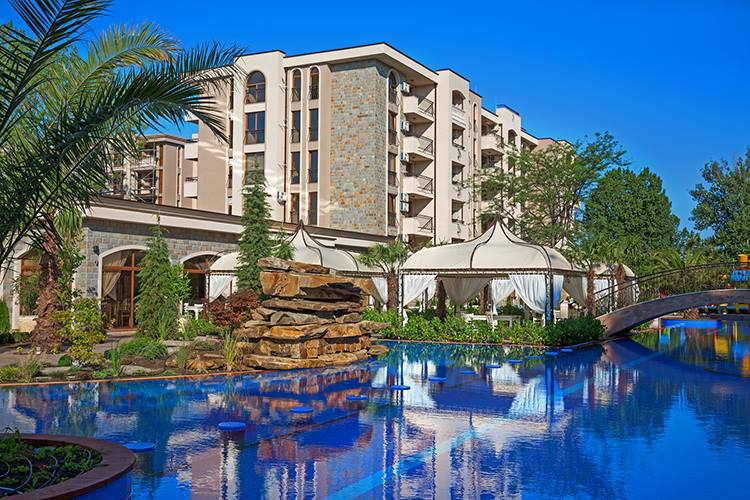 Price Analysis for Summer 2017
Prices of apartments in Cascadas complex have been relatively stable mainly because of good management and the fact that the complex is still developing every year. However there are resale offers with attractive prices. Currently there are resale apartments in the complex at the following prices:
Studio apartments – 18 500 to 24 500 Euro
One-bedroom apartments – 34 000 to 48 000 Euro
Two-bedroom apartments – 55 000 to 80 000 Euro
If you consider selling your property in Cascadas complex, don't hesitate to contact us and get a Free Property Valuation from the experts at Cash4BulgarianProperties or a CASH offer for your property within 24 hours.
Contact us by e-mail info@cash4bulgarianpropertis.com or by phone +359 (0) 878 60 77 82 !
Sunny Beach Hills has been constructed by one of the leading building companies, popular for its great hotel complexes, located in the Sunny Beach. These are, for example, Sunny Beach Hills and Grand Kamelia, which offer abundant facilities and promise tourists that they will spend an unforgettable vacation in the most famous and the biggest Bulgarian Sea resort, Sunny Beach.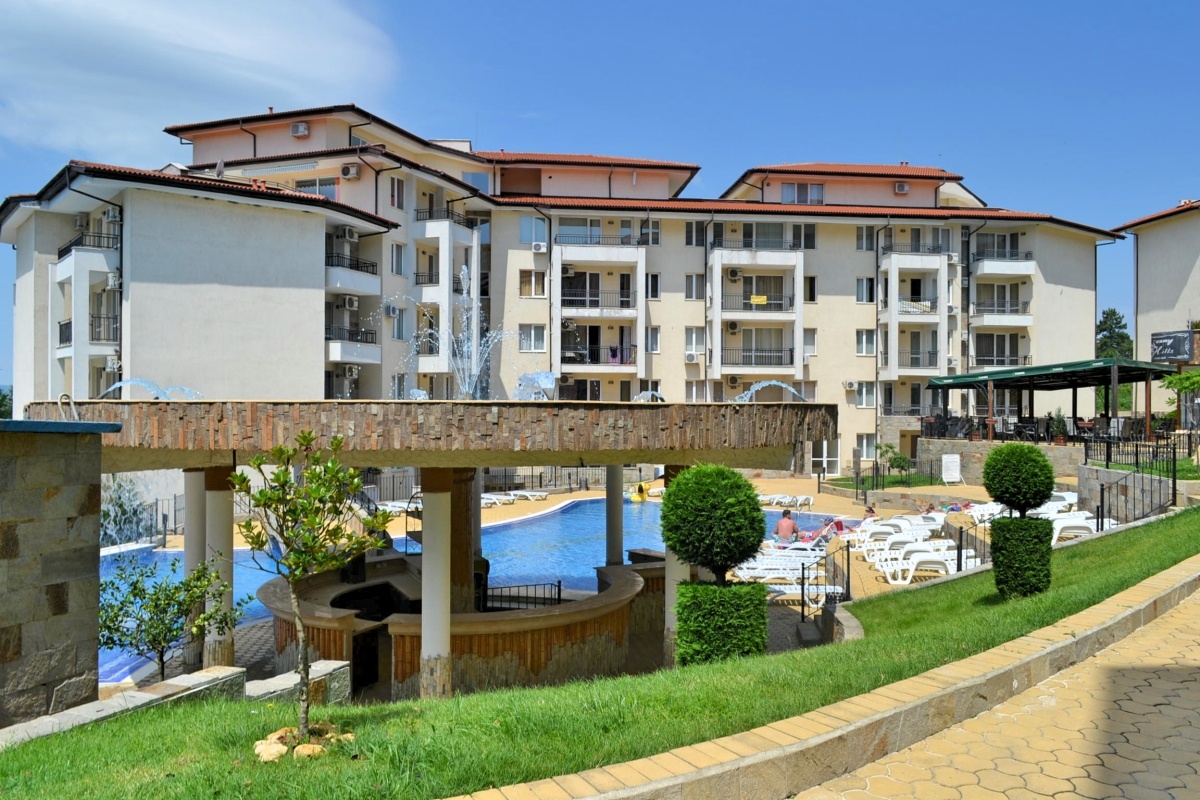 Sunny Beach Hills Complex is situated in Sunny Beach, just 300 m from the beach. Some of the apartments in the complex and especially on the higher floors have sea view. Other apartments have very picturesque forest view and that can help you relax and enjoy your holiday even more.
Sunny Beach Hills Complex is surrounded by 5-star hotels and apart-hotels. In close vicinity are the popular Helena Resort, Victoria Residence Hotel, Majestic Hotel, Poseidon Hotel and The Hill Club Apart-hotel. In this prestigious area you can find everything you may need.
Sunny Beach Hills Complex gets more popular every year, not only because of its location, but also because of its onsite facilities and good management. There are multiple facilities for the guests, such as a swimming pool with lounges and a special zone for children, a restaurant with a terrace, a water bar, a playground, a tennis-court/ mini football field, paid Wi-Fi, parking lot, family apartments, and apartments for non-smokers. Sunny Beach Hills offers one or two bedroom apartments, all of which are air-conditioned and feature a cable TV, a fully equipped kitchenette, a living room, and a balcony. The hotel offers also a 24/7 reception and security as well as CCTV.
The local bus station is located in only 100 m and the Aqua Park and the center of the Sunny Beach resort are both in 500 m of distance. There are options for renting a car and using airport transfer.
The small and beautiful resort, Sveti Vlas, along with the popular yacht port Marina Dinevi is located in 3 km from the complex. The ancient city of Nessebar with its beautiful architecture and attractions is in 7 km of distance.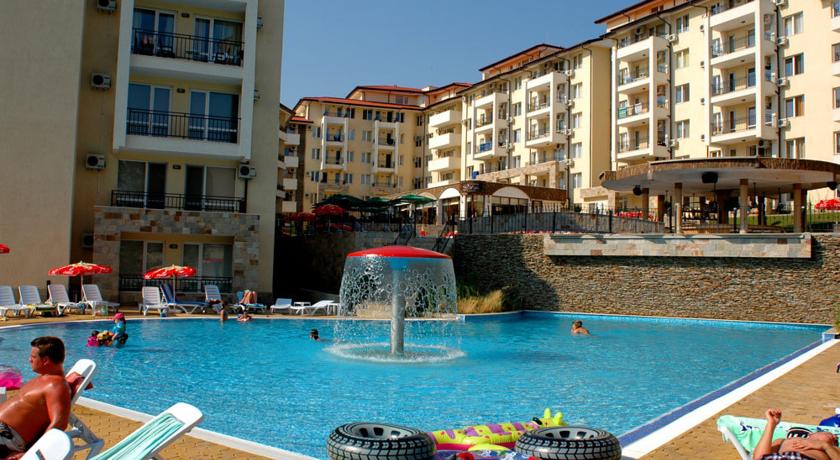 For the past few years sale prices of apartments in Sunny Beach Hills complex have been relatively stable. The management company of the complex has done several improvements for the last two years which helped to keep the prices from falling. Resale market traditionally offers attractive prices. Currently there are resale apartments in the complex at the following prices:
Studio apartments – 14 000 to 20 000 Euro
One-bedroom apartments – 24 000 to 30 000 Euro
Two-bedroom apartments – 35 000 to 60 000 Euro
If you consider selling your property in Sunny Beach Hills, don't miss the great opportunity to get a Free Property Valuation from the experts at Cash 4 Bulgarian Properties or a CASH offer for your property within 24 hours.
Contact us by e-mail info@cash4bulgarianpropertis.com or by phone +359 (0) 878 60 77 82 !