Murite Club Hotel (White Fir Valley)
Murite Club Hotel is Located in the Razlog Valley, one of the most picturesque spots in Bulgaria, set just 500 metres from the Pirin Golf Hotel & Spa, and close to Razlog and Bansko. The resort boasts a wealth of amenities with a large spa, has beautiful views from both the indoor and outdoor pools, has an excellent restaurant and conference facillites as well.
Distance to ski lift: 6.3km
Distance to center: 6.4km
Distance to airport: 150km to Sofia Airport
Rooms and Accommodation in Murite Club Hotel
Are You looking to sell your property in Murite Club Hotel (White Fir Valley)?
In White Fir Valley Hotel you can enjoy fashionably furnished apartments and rooms. The hotel has four detached buildings with double rooms, apartments with one, two, and three bedrooms, as well as spacious maisonnettes. Each apartment has a spacious living room, a fully fitted well appointed kitchen, spacious double bedrooms, and bathrooms, and a balcony or terrace with wonderful views of the mountains.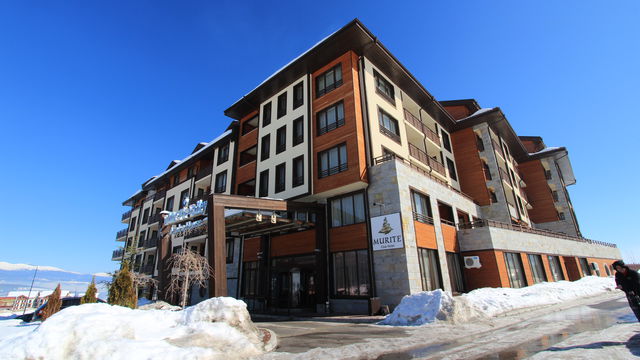 Resale market traditionally offers more attractive prices. Currently in Murite Club Hotel, there are resale apartments at the following prices:
One-bedroom apartments – 19 000 to 23 000 Euro
Two-bedroom apartments – 32 000 to 39 000 Euro
Three-bedroom apartments – 44 000 to 51 000 Euro
If you consider selling your property in Murite Club Hotel, don't miss the great opportunity to get a Free Property Valuation from the experts at Cash4BulgarianProperties or a CASH offer for your property within 24 hours.
Contact us by e-mail info@cash4bulgarianpropertis.com or by phone +359 (0) 878 60 77 22!
TERRA COMPLEX (Pirin House, Rila House, Rodopi House)
TERRA Complex consists of four buildings - Pirin (the main building of the complex), Rila House, Rhodopi House, Balkan House, each of which has double rooms and apartments with one, two and three bedrooms. The modern amenities are located in the main building. The top location of the complex is ensured by the proximity to the Bansko Ski Resort (6 km), spa resort (Dobrinishte - 13 km), to a golf course. Razlog is located 156 km from Sofia, 56 km from Blagoevgrad and 109 km from Plovdiv.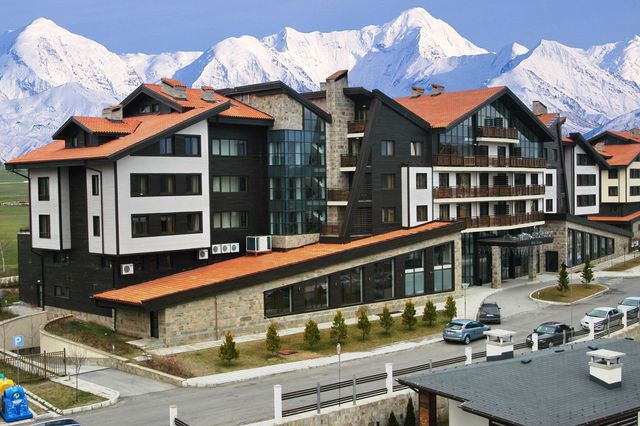 The complex offers its guests a variety of amenities and friendly service that will help you relax and will make you feel really special. You can use the 24-hour reception, indoor swimming pool (length - 20 meters, width - 7 meters, depth - 1.30 to 1.70 m and temperature of 31 degrees in winter and 28 degrees in summer), Jacuzzi, outdoor swimming pool (length - 12 m, width - 5 m and depth - 1.60 m), children's swimming pool, children playground, games room with table tennis, air hockey, billiards, pinball and simulator car. There is thermal area equipped with Finnish sauna, steam bath, Turkish bath, as well as lobby bar, restaurant TERRA Bar & Diner with 130 seats - a cozy place for your morning coffee and breakfast snacks, for lunch, dinner or evening party, conference hall with 100 seats and the necessary equipment, as well as private parking lot.
You have a property for sale in TERRA Complex? We have a client for it!
Our company www.Cash4BulgarianProperties.com specializes in the rapid sale of apartments, which are located in gated community such as Tera Complex in Razlog Valley. There is great interest from our customers (cash buyers) who are ready to buy immediately an apartment in the complex. For the  third quarter of 2016 we have received over 15 requests from clients who are willing to purchase a property in Terra complex.
Basic search:
One bedroom apartment (furnished)
One bedroom apartment (unfurnished)
Two bedroom apartment (furnished)
Two bedroom apartment (unfurnished)
Three bedroom apartment
If you own an apartment in TERRA complex and need to sale your property you can easily transgress a deal and realize a profit. Current state of the market ensures the realization of sale at price levels from €300 – €390 Euros per sq.m.
If you want to sell your property in Terra Complex (Pirin House, Rila House, Rodopi House), we will be happy if you contact us by e-mail or phone: +359878607722. We are ready to answer all your questions, to visit at a convenient time your property, no upfront fee and no obligations absolutely FREE to prepare a realistic assessment of the property, according to the current state of the market and commit ourselves to its sales in the fixed period.