Cascadas Family Resort, Sunny Beach
Location
Being the major Bulgarian summer resort on the Black Sea coast, Sunny Beach attracts thousands of tourists during the season, which prolongs from May till October. The popular attractions in this resort include multiple water sports, two water parks, the nearby located Nessebar historic site, and multiple fashion shows and music festivals that are conducted annually here. Nessebar is a historic town located in just 5 km and can be easily reached by a car or bus. The bus station is in 1 km from the complex, so you have access to all the major sights and local facilities.
The amazing Cascadas Complex itself is made of 20 6-story buildings. It is located on 149 Chaika Street, Sunny Beach.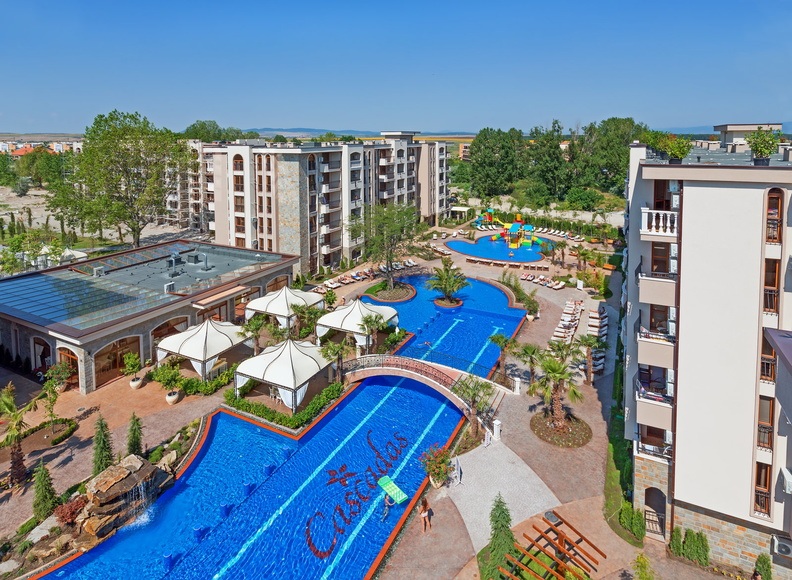 Outdoor and Indoor Facilities
It provides both outdoor and indoor wellness facilities along with excellent accommodation options. These include one outdoor gym and two indoor gyms, a massage parlor, hot tubs located also outdoors, etc.
Among the outdoor facilities there is also a barbecue and a playground for beach volleyball. The most popular Bulgarian Aqua park called Action Aqua Park is located in just 100 meters from the complex. Along with the swimming pools available in the complex, the tourists can enjoy the beach that lies in just 600 meters away. The lovers of the dynamic night life in Sunny Beach have the opportunity to visit the multiple Cacao Beach clubs that are 4 km off.
Cascadas Complex offers also cars and bikes for rental that will give you the opportunity to visit effortlessly all the surrounding attractive places. People, who would like to get a transfer to Istanbul, can request it at the complex and it will be arranged for them at a surcharge.
Apartments
Various apartment choices are available at the Cascadas Family Resort that include standard one- and two-bedroom apartments, studious, Deluxe studios and apartments. All the apartments and studios at the complex have elegant and modern decoration and feature a balcony. There are all connections for fixing a kitchen along with a sleek bathroom that enhance the owners' convenience.
Restaurants
The Cascadas Complex also features 3 restaurants – Spanish, Italian, and of course Bulgarian one with traditional Bulgarian dishes. If you would like to sample the amazing cuisine offered at the Bulgarian and Spanish restaurants, you need to get accommodation between 1 of June until 30 of September, as they are open only during that period. On the other hand, the Italian restaurants operates all year round and is at the disposal of the complex guests.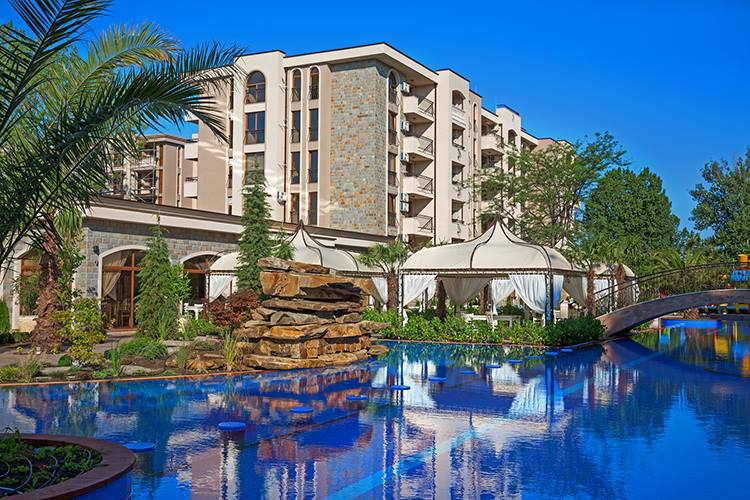 Price Analysis for Summer 2017
Prices of apartments in Cascadas complex have been relatively stable mainly because of good management and the fact that the complex is still developing every year. However there are resale offers with attractive prices. Currently there are resale apartments in the complex at the following prices:
Studio apartments – 18 500 to 24 500 Euro
One-bedroom apartments – 34 000 to 48 000 Euro
Two-bedroom apartments – 55 000 to 80 000 Euro
If you consider selling your property in Cascadas complex, don't hesitate to contact us and get a Free Property Valuation from the experts at Cash4BulgarianProperties or a CASH offer for your property within 24 hours.
Contact us by e-mail info@cash4bulgarianpropertis.com or by phone +359 (0) 878 60 77 82 !